[/url]

The State Department of Natural Resources, Southcentral Region Land Office and the Mat-Su Borough, Department of Community Development are seeking public input from all user groups and individuals on the recreational uses on trails on state land north of Sutton in the Eska Creek area.

State and Borough representatives will be on hand to present results of surveys conducted during 3 previous scoping meetings and to gather public input on trail options and development of a trail management plan. Information collected during the workshop will be used to identify trails and areas that should be dedicated for public use, identify designated trail options, and to help establish management goals and objectives for the area.


The workshop will be held:
Tuesday January 30, 2007
7:00 - 9:00 pm
at the Sutton Elementary School


Your contribution is important. Please come and share your knowledge and input.

If you are not able to attend and would like to comment or receive information, please contact Neil Shishido at 907-269-8564 or
neil_shishido@dnr.state.ak.us
.
Eska Trail Management Plan
Trail Options
1. Designate existing alignment as multiuse trail. Make trail improvements on this alignment. Leave eastern loop and other trails in the area as generally allowed uses.
2. Designate existing alignment non-motorized only. Designate eastern segment as motorized. Make trail improvements on both segments.
3. Make entire system, existing alignment and eastern segment sustainable multiuse trail.
4. Designate existing alignment as multiuse, make improvements. Layout and construct new hiker trail.
5. Make trail improvements to the existing alignment and eastern loop. Designate these trails as multiuse. Locate and construct new non-motorized trail.
Trail Management
1. How do we manage alpine area to minimize trail braiding? Designate one sustainable, well-marked trail? How do we get users to stay on designated trail?
2. How to minimize impacts from early season recreational use. Close trail system to all user groups during "breakup" (until June 1) and during rainy season? Use educational signage to gain compliance.
3. Compliance of human use and trail guidelines will be achieved through education and community and stakeholder participation. Self-policing by trail users and the use of peer pressure to achieve trail management objectives will be important to the successful implementation of recommendations. Use educational signage and user group participation to achieve management objectives.
4. Promote user group buy-in, support and volunteer to help layout and construct trail improvements.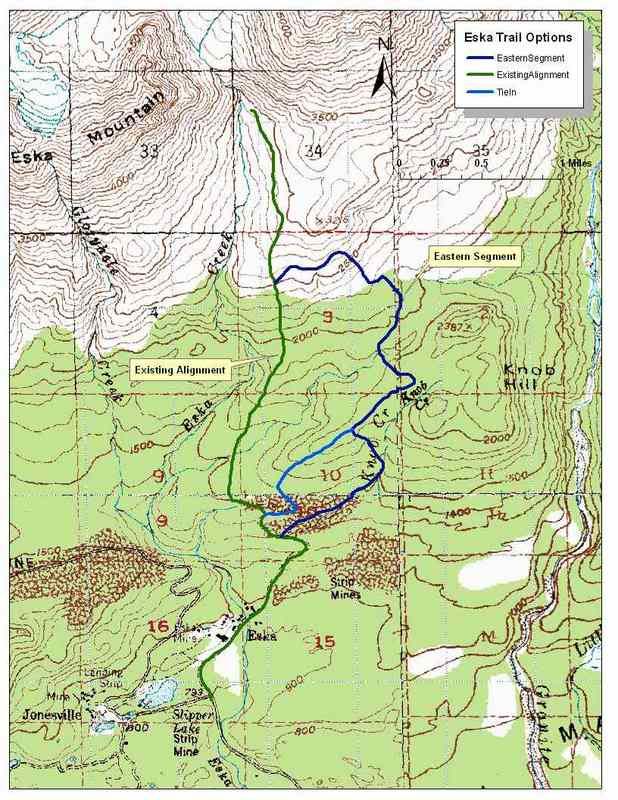 http://www.alaska4x4network.com/showthread.php?t=25158
[url=http://i85.photobucket.com/albums/k52/ak_snowbear/misc/EskaTrailsWorkshop.jpg]